Taj Mahal Timings & Ticket Prices
Get detailed information about the Taj Mahal visit in Agra, India, including the time and ticket cost.
Taj Mahal Timings
For normal operating days, the Taj Mahal opens 30 minutes before sunrise and closes 30 minutes before sunset.
Taj Mahal is normally open to visitors from 6:00 AM to 7:00 PM every day, except on Fridays (when it remains closed for prayers). During the full moon, the monument keeps its gates open for night viewing from 8:30 PM to 12:30 AM, plus two days after and before the full moon, totalling five days.
Taj Mahal is closed on Fridays for general viewing. But it is always open on the other days.
The Archaeological Survey of India sets the timings for visits to the Taj Mahal. The Taj is open every day of the week, except Fridays, when it is only open in the afternoon when people are attending the Taj Mosque for prayers. The Taj is open between sunrise and sunset every day. Tickets are available throughout the day at the western and eastern gates, and at the southern gate tickets are available from 8:00 AM to 5:00 PM. Visitors can spend as much time in the Taj complex as they like, starting from dawn to dusk.
The Taj Mahal is open for night viewing only on five nights in a month: the night of the full moon, two days before it and two days after it, except for Fridays. In order to reserve tickets for night viewing, please book one day in advance (24 hours).
Outlets for ticketing
Buying a Taj Mahal ticket from the entry gate ticket counter.
Taj Mahal Western Gate:- Tickets are available on Western Gate near Saheli Burj. (Timing-One Hour before Sunrise upto 45 Minutes before Sunset).
Taj Mahal Eastern Gate:- Tickets are available at Eastern Gate of Taj Mahal. (Timing-One Hour before Sunrise upto 45 Minutes before Sunset).
Taj Mahal Southern Gate:- No Entry from this gate at Present only Exit is allowed.
---
Taj Mahal Ticket Price 2022-23
In order to enter Taj, there are two separate queues for foreigners and domestic tourists and signs will direct you accordingly.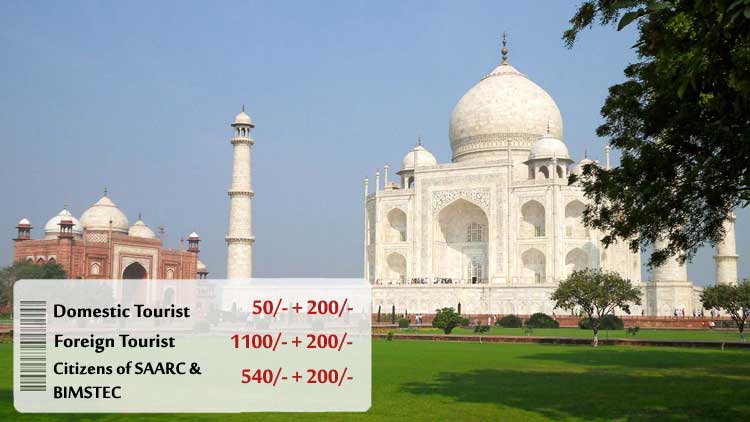 Tourist Type
Amount (Rs.) (Inclusive of ASI & ADA fees)
Domestic/Indian/OCI Cardholder
50/- + 200/-
Additional for visiting main mausoleum (Optional)
Foreign Tourist
1100/- + 200/-
Additional for visiting main mausoleum (Optional)
Citizens of SAARC and BIMSTEC Countries
540/- + 200/-
Additional for visiting main mausoleum (Optional)
Note:
No entry fee for children below the age of 15 years. (both Domestic and Foreigner).
Additional Rs.200/- will be charged if one wants to visit the main mausoleum