Varanasi
Varanasi, India's most sacred Hindu city is situated on the West bank of the Ganga. It is also known as Benares, Banaras or Kashi . The Name Varanasi was derived from tract of land lying in between confluence of river Varuna and Asi. Hence Varun-asi or Varanasi.  Varuna and Asi join the Ganges on the north and south borders of the city.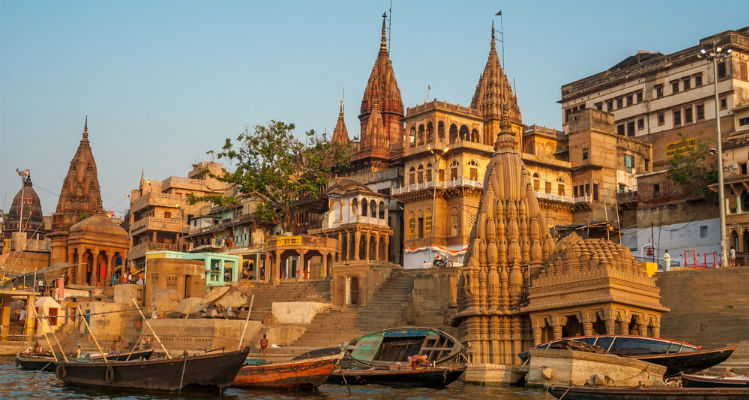 The city is sacred to Hindus and Jains and also one of the oldest continuously inhabited cities in the world, with settlements dating back to the 11th century BC. Many Hindus believe that dying in Varanasi brings salvation/nirvana and so they make the trip to the city when they realize that they are close to death. For some, the culture shock of the burning corpses in plain view can be a bit overwhelming. However, the scene of pilgrims doing their devotions in the River Ganga at sunrise set against the backdrop of the centuries old temples is probably one of the most impressive sights in the world.
Varanasi is the microcosm of Hinduism, a city of traditional classical culture, glorified by myth and legend and sanctified by religion.
Varanasi has always attracted a large number of pilgrims and worshippers from time immemorial. It is said to combine all the virtues of all other places of pilgrimage and anyone dying within the area marked by the Panch Kosi road is said to go to heaven. It is also an important pilgrimage centre for Buddhists as it was at Sarnath (10 km from Varanasi), Lord Buddha gave his first sermon after enlightenment. Varanasi today, is also a centre of education, art and craft.
---
Best Time to Visit Varanasi
The best time to visit Varanasi is from October to March. Varanasi, also known as Kashi, is located on the banks of the holy river Ganges in Uttar Pradesh. Varanasi experiences summer, monsoon and winter.
Summer in Varanasi
April to June is summer time n Varanasi. Temperatures range from 32° C to 46° C.

Monsoon in Varanasi
The monsoon season in Varanasi is accompanied by heat, humidity and moderate rainfall.

Winter in Varanasi
Winter lasts from October to March and the temperature stays anywhere between 5° C and 15° C. Since it is chilly at this time of year, it is great time for tourists to visit Varanasi.

History of Varanasi
Varanasi is said to be the most holy city in Hinduism. It is the site of the holy shrine of Lord Kashi Vishwanath (an incarnation of Lord Shiva), one of the twelve revered Jyotirlingas of the Lord Shiva. Kashi Vishwanath Temple, which in its present shape was built in 1780 by Maharani Ahilyabai Holkar of Indore, is located on the banks of the Ganges.
The land of Varanasi (Kashi) has been the ultimate pilgrimage spot for Hindus for ages. These few lines by Mark Twain say it all: "Benaras is older than history, older than tradition, older even than legend and looks twice as old as all of them put together".
Ganges is said to have its origins in the tresses of Lord Shiva and in Varanasi, it expands to the mighty river that we know of. The city is a center of learning and civilization for over 3000 years. With Sarnath, the place where Buddha preached his first sermon after enlightenment, just 10 km away, Varanasi has been a symbol of Hindu renaissance, Knowledge, philosophy, culture, devotion to Gods, Indian arts and crafts. Also a pilgrimage place for Jains, it is believed to be the birthplace of Parsvanath, the twenty-third Tirthankar.
---
Places to visit in Varanasi
Ghats and the River Ganges
The River Ganga is a sacred river for the Hindus and you will see traditional rituals and bathing occurring at all times of the day. On the Eastern banks, the River Ganga is flanked by a 300m wide sand belt, beyond which lies a green belt, a protected area reserved for turtle breeding. The western crescent-shaped bank of the River Ganga is flanked by a continuous stretch of 84 ghats, or series of steps leading down to the river, stretching for 6.8km. These ghats were built by Hindu kings who wanted to die along the Ganges, and they built lofty palaces along the river, most of which are now hotels, to spend their final days. You can walk along the river and see all of the ghats, but the best option for viewing the ghats is to charter a boat and see them from the river.
Hindus consider it auspicious to die in Varanasi, so some ghats are known as burning ghats, where over 200+ corpses per day are cremated in full view before their ashes are eased into the Ganga.
Some of the most popular ghats, from north to south:
Panchganga Ghat – the meeting of the five rivers
Manikarnika Ghat – the main cremation ghat; a must-see, but remain quiet and never take photographs (note: scams are plentiful here; see the "Staying Safe" section)
Dasaswamedh Ghat – known as the 'main' ghat, this is the site of the large evening aarti ceremony
Rana Ghat
Kedar Ghat – brightly painted in stripes and busy with bathers, very photogenic
Narad Ghat – the ghat on which bathing with spouse is not advised because the legend of contention
Harishchandra Ghat – the cremation place where Raja Harishchandra did the last rituals of his son.
Hanuman Ghat
Shivala Ghat
Tulsi Ghat – site of the large water purification plant
Assi Ghat – a popular place to stay, with many hotels, restaurants, and internet cafes.
Religious Sites in Varanasi
Alamagir Mosque, (overlooking Panchganga Ghat). a great place for a bird's eye view of the area.
Durga Temple.
Gauri Matha Temple. The devi at this temple is supposed to be the sister of the lord Kashi Vishwanath. Its a tradition to visit here just before you leave Kashi. You buy sea shells at this place and offer them to God saying that the virtues of donating the shells goes to her while you keep the virtues of having visited the holy shrines in Kashi and bathing in the ganga. The trip to Kashi is expected to yield results only after completing this custom.
Kaal Bhairav Temple. Dedicated to Kaal Bhairav, a dreaded form of the Lord in Shiva avatar symbolizing death. Its a tradition to buy a black thread (Rs. 15), sanctify it in the shrine, then wear it on the arm, wrist or around the neck as protection against evil. edit
Nepali Hindu Temple, (near Lalita Ghat). A small golden temple, built in Nepali architecture.
Shri Kashi Vishwanth Temple (Golden Temple), Security is tight making entrance difficult and sometimes completely off limits to foreigners. No bags, cellphones or pens are allowed. They can be deposited in the shops by the temple entrance. The temple was destroyed multiple times by Mughal invaders and was re-constructed by Hindu kings who followed them.
Sankat Mochan Temple. The famous Hanuman temple, home to thousands of monkeys. Security is tight, mobile phones, keys etc. are not allowed inside the temple as a result of moslem terrorist bomb blasts; and as you enter you will be greeted by the sight of hundreds of monkeys on the premises. Beware- they may snatch from you if they see you carrying boxes or packets of food. Inside the temple you will find stacks of hanuman chalisa text for the use of devotees.
Sarnath (10km from Varanasi) – It is believed that in Sarnath Buddha gave his first sermon to his disciples after getting enlightenment. There is also a Museum in Sarnath. The location is also known as Deer Park. Sarnath is 13 Km from Varanasi and is very peaceful. Several Asian countries have built Buddhist temples there following their own ancient architectural traditions.
Other Sights
Banaras Hindu University, a very green and peaceful campus. Few actually know that this University was built during the Indian freedom struggle and is known as Oxford of the East. This is the largest residential university of Asia, with 124 departments. You can also visit Bharat Kala Bhavan, a museum of Art and Archaeology inside the university. There is also a huge white marbled temple called Vishwanath Temple which was built by Pt. Madan Mohan Malviya, the founder of the university.
Chunar Fort, (15km southwest of Varanasi). A 2,000+ year old fort.
Kriti Gallery, Raman Niwas, Mahmoor Ganj, Varanasi (opposite All India Radio Station), a place to interact with contemporary art in the city of Varanasi.
Man Mandir Observatory.
Ramnagar Fort, (Located on the eastern bank of the river, opposite Tulsi Ghat). The fort of the King of Kashi. Built in 1750 in the Mughal style.
---
How To Reach Varanasi
Varanasi is the cultural capital of India and the melting pot of Indian civilization. Varanasi or Benaras has a well-developed transport network and is well connected to all the major Indian cities and states by air, road and rail.
By Air
Varanasi is well connected and accessible to major Indian cities and tourist spots. There are daily domestic flights to and from Varanasi to several cities in India. Apart from the state owned Indian Airlines, there are many private air taxi operators that offer their services from Varanasi to other Indian cities. In fact, the daily flights on Delhi-Agra-Khajuraho-Varanasi route are quite popular among the tourists.
By Rail
Since Varanasi lies in the heartland of the North Indian plains, it is well connected to Delhi, Kolkata, Mumbai and other parts of India. There are two railway stations in Varanasi, the Kashi Junction and the Varanasi Junction (also known as Varanasi Cantonment). Rajdhani Express from Delhi or from Calcutta passes through Varanasi too. One can also catch trains from Mughalsarai, just 10 km south of Varanasi.
By Road
Situated in the flat Ganga plains, Varanasi has a good network of roads. frequent public and private buses and road transport to all the major towns of Uttar Pradesh and nearby areas.