Periyar
Periyar is a protected area, and a nature reserve in the South Indian State of Kerala, set high in the mountains of the Western Ghats at the border to Tamil Nadu. It lies in the districts of Idukki and Pathanamthitta. The protected area covers an area of 777 km², out of which a 350 km² part of the core zone was made into the Periyar National Park and Tiger Reserve, sometimes dubbed the Periyar Wildlife Sanctuary.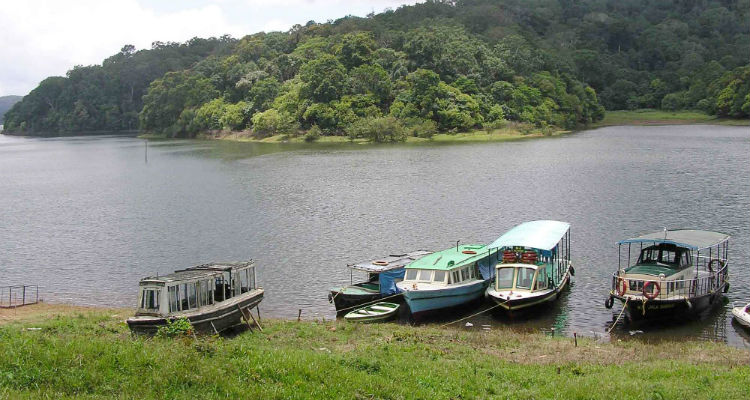 History
Before the core area was made into a National Park it was wildlife sanctury.
Landscape
Flora and fauna
Periyar is home to one of India's largest Tiger populations. There are also gaur (Indian Bison) and wild boar. Please note you will be need to be very lucky to see a Tiger.
Climate
The temperature varies depending upon the altitude and it ranges between 15°Celsius in December and January and 31°Celsius in April and May. Annual precipitation is between 2000 and 3000 mm, about two thirds occurring during the southwest monsoon between June to September. Much of the rest occurs during the northeast monsoon between October and December
How to Reach
The only way to the tourism zone is through the gate at Thekkady, a few kilometers from Kumily. Kumily on the Tamil Nadu border is well connected to Kodaikanal, Madurai, Theni in Tamil Nadu and Kottayam in Kerala.
Please of Interest
Periyar Tiger National Park [2]: Periyar tiger Reserve, Thekkady, is an example of nature's bounty, with great scenic charm, rich bio diversity and providing veritable visitor satisfaction. Sprawled over an area of 777 Sq .km., Periyar is one of the 27 tiger reserves in India.
Nature Walk: The guided day trek
The Periyar Tiger Trail: Adventure trekking and camping
Border Hiking: Protection oriented range hiking
Bamboo Rafting: Dawn to dusk range hiking
Jungle Patrol: Shepherding the jungle
Tribal Heritage: A peep into the past
Jungle Inn: Jungle in the night
The Bamboo Grove: Eco lodge & Centre for experiential learning
Green Mansions: Far from the madding crowds…
General Information
Location : Thekkady, about 4 km from Kumili in Idukki district, central Kerala
Nearest railway station: Kottayam, about 114 km
Nearest airport: Madurai (Tamilnadu) about 140 km; Cochin International Airport, about 190 km.