Bikaner
Bikaner is located in the northern part of Rajasthan and lies 316 kms from Jaipur, 240 km from Jodhpur and 330 km from and Jaisalmer. The desert city shares its boundary with Jaisalmer, Jodhpur, Nagaur and even Pakistan.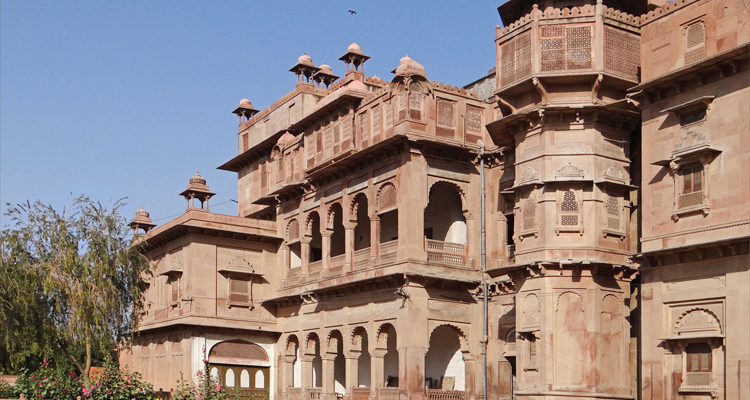 Bikaner is home to one of the only two models of the biplane used by the British during World War I. They were presented by the British to Maharaja Ganga Singh, then ruler of the city. Another unique aspect about Bikaner are the sand dunes that are scattered throughout the district, especially from the north-east down to the southern area. Bikaner is situated in the northern region of Rajasthan. One of the earlier established cities, Bikaner still displays its ancient opulence through palaces and forts, built of red sandstone, that have withstood the passage of time. The city boasts of some of the world's best riding camels and is aptly nicknamed 'camel country'. It is also home to one of the world's largest camel research and breeding farms; as well as being known for having its own unique temple dedicated to Karni Mata at Deshnok, called the Rats Temple.
The origins of Bikaner can be traced back to 1488 when a Rathore prince, Rao Bikaji, founded the kingdom. Legend has it that Bikaji, one of Rao Jodhaji's five sons, left his father's Durbar in annoyance after an insensitive remark from his father, the illustrious founder of Jodhpur. Bikaji travelled far and when he came upon the wilderness called Jangladesh, he decided to set up his own kingdom and transformed it into an impressive city.
---
Places to Visit in Bikaner
Junagarh Fort: Junagarh is an impregnable bastion that holds the distinction of having never been captured. It was constructed in 1588 AD by Raja Rai Singh, one of Emperor Akbar's most distinguished generals. The fort complex houses some magnificent palaces constructed in red sandstone and marble and visitors can feast their eyes on an attractive assortment of courtyards, balconies, kiosks and windows.
Lal garh Palace: Maharaja Ganga Singh commissioned the construction of this majestic palace. This architectural marvel is made entirely of red sandstone and was built in 1902 to commemorate his father, Maharaja Lal Singh. The design was conceptualised by Sir Swinton Jacob, who created this oriental fantasy by blending Rajputana, Islamic and European architecture.
Ganga Museum: Described as the best museum in the State, the museum contains a rich display of archaeological artefacts from Harappa and the early Gupta periods. There are separate sections for paintings, arts and craft, woven carpets, clay pottery, ancient coins and Rajput weaponry.
Bhandasar Jain Temple: Jain Temple Bhandasar is a 15th century temple dedicated to the 5th Tirthankar (a person that has conquered the cycle of life, death and rebirth and paved the path for others to attain nirvana), Sumatinathji, and is one of the oldest monuments of Bikaner. The temple design includes intricate mirror work, murals and gold leaf paintings. Devotees throng to the temple from all corners of the country.
Devi Kund: 8 kilometres from Bikaner is the royal crematorium. It has several exquisite chhatris (cenotaphs), each dedicated to the memory of a ruler of the Bikaji dynasty and situated on the exact spot where each of them was cremated. The chhatri of Maharaj Surat Singh is a fine example of the architecture of that era. Devi Kund also has cenotaphs of 22 female members of the royal family prior to Maharaja Gaj Sigh Ji, who committed sati. There is also one cenotaph of a Sata (male sati) of a ruler. Maharaja Surat Singh's Chhatri is built entirely in white marble with spectacular Rajput paintings on its ceiling.
Gajner Wild Life Sanctuary: Barely 32 kilometres from Bikaner, on the Jaisalmer road, is a lush green forest which is a haven to the nilgai, chinkara, black buck, wild boar, flocks of imperial sand grouse and many other species of migratory birds that make the sprawling forest their winter home.
Gajner Palace and Lake: Gajner is an incomparable jewel of the Thar. The Gajner Palace was founded by Maharaja Gaj Singh ji of Bikaner in the year 1784, and then completed by the great Maharaja Ganga Singh of Bikaner on the banks of the lake. It was meant to serve as a hunting and relaxing lodge for the royal family as well as for visiting guests. It has now been converted into a hotel
Rampuria Haveli: Bikaner has several havelis (aristocratic homes), the most famous cluster being the Rampuria Group of Havelis. Built of dulmera (red) stone, every aspect of the havelis – jharokhas (casements), entrances, latticed windows, divankhanas, gumaharias or basements – is simply exotic. Leaves and flowers decorate every jharokha, lending it a pleasant touch. These massive havelis are decorated with golden work of the highest quality. Their dankhanas (drawing room) take one back to the Mughal and Rajput era. One can notice an abundance of Victorian influence in their design as well. The wood carvings in Rampuria Havelies are extremely exquisite. Spaced close to each other, the havelis are truly a sight to behold.
Laxmi Niwas Palace: Laxmi Niwas Palace was the residence of the king of Bikaner, Maharaja Ganga Singh. Built between 1898 and 1902 by British architect Sir Samuel Swinton Jacob, this structure displays an Indo-Saracenic architectural style. It is now a luxury hotel.
Deshnok Karni Mata Temple: Hinduism in India is as multifarious a religion as it is longstanding.Spirituality and symbolism happen to be its two fundamental elements. Also, a deeply involved part of these two aspects of Hinduism are animals. The assertive Hindu belief of inviolability of animals is actually one of the most remarkable aspects of the Indian culture. These creatures have been reckoned as channels for love and unity, symbols of the culture and impetuses of growth, by many ancient Indian literary texts. The life of an animal is held equal to that of a human, the only difference being that unlike the latter their senses have not fully manifested. Right from the classification of beings to the many animal incarnations of Gods, the crucial role of Nature's beasts is furthermore stressed. The more one comes across the powerful references to animals in India, the more intrigued one gets. And it is only by visiting the numerous religious destinations within the nation, and peeking into their backgrounds that you begin to converge with the thresholds of this centuries' old culture. Among the prominent seats of religion in India is the legendary Karni Mata Temple in Bikaner.
---
How to Reach Bikaner
By Air: The nearest airport is Jodhpur which is 240 kms from Bikaner.
By Train: The Indian Railways connects Bikaner with cities like Delhi, Calcutta, Agra, Jaipur, Allahabad etc. The gorgeous 'Palace on wheels' also covers Bikaner in its eight-day tour of Rajasthan.
By Road: Though the unfriendly desert sands surround Bikaner but the city is well connected by roads. There are local and inter-state bus services plying for Bikaner from all the major cities.