Manali
Manali, at the northern end of the Kullu Valley in Himachal Pradesh, is a hill station situated at a height of 2050m (6398 ft) in the Himalayas. Situated on the Beas river (Vyaas in Hindi) and near its source, it is a popular tourist spot for Indians in summer and a magical, snow-covered place in winter. A staging point for a number of treks (Beas Kund, Chandrakhani Pass) and sports such as white-water rafting, Manali is also on the road to Ladakh via the valley of Lahaul and Spiti and the Rohtang Pass which is the main attraction near Manali.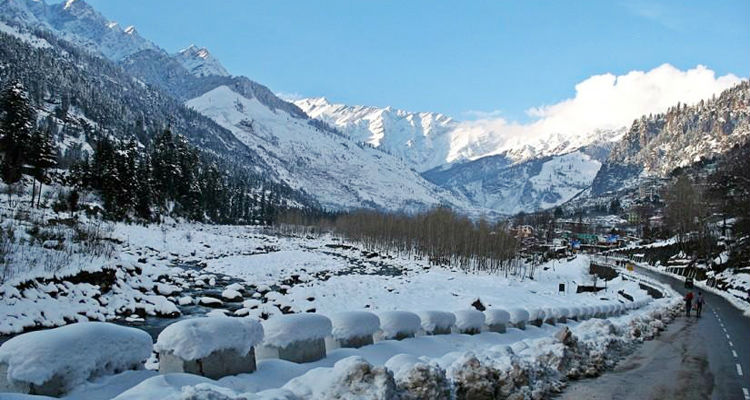 General Information
Area: 5.12 sq. km
Altitude: 1926 meters
Climate:
| | | |
| --- | --- | --- |
| | Max | Min |
| Summer | 250C | 120C |
| Winter | 14.50C | 20C |
Clothing: Summer – Light woollens, winter – Heavy woollens
Best Season: April to Mid-July and Sep. to Nov.
Languages: Pahari (Local Dialect), Hindi, English
---
Places to visit in Manali
Arjun Gufa (Cave): 4 kms from Manali towards Naggar, the cave is situated near Prini village 1km. above the road where Arjun had meditated. This is a good 1/2 day excursion with charming view of the brilliant mountains.
Bijli Mahadev Shrine (2460 m): 10 kms from Kulu across the Beas river, Bijli Mahadev temple is one of the striking temples in the temples strewn district. It can be reached by a tough but rewarding climb of 10 kms trek. From the temple a panoramic view of Kulu & Paravati valleys can be seen. A 60 feet high staff of Bijli Mahadev temple glistens like a silver needle in the sun. In this temple of lightening it is said, the tall staff attracts the divine blessings in the form of lightening. The rest of the story can be heard from the priest, which is un-believable but true.
Brighu Lake: In district Kullu, Brighu Lake lies east of the Rohtang Pass and is about 6-km from the village of Bulaba. The shores of this clear water lake are devoid of human habitation ,yet it is visited regularly by the people of the area
Club House: 2 kms from the town, clubhouse has indoor games facilities, which are located on the left bank of Manalsu Nallah.
Hadimba Temple: Manali has many attractions but the chief centre of interest, historically and archeologically, is undoubtedly the temple dedicated to goddess Hadimba. It has four-tiered Pagoda shaped roof and the doorway is carved with legendary figures and symbols. This temple located amidst wooden forest of deodar is about 2.5 kms from the tourist office. It is a pleasant experience to stroll in the temple complex, which was built in 1533 A.D. A large festival is held here in May.
Jagatsukh: 6 kms from Manali located on the left bank of Beas on the road to Naggar. The place is famous for very old temples of Lord Shiva and Sandhya Gayatri in Shikhara style.
Manu Temple: 3 kms from the main bazaar in old Manali lies the temple of MANU RISHI. It is believed that this is the only temple of Manu in India, who was the creator of human race on the earth.
Mountaineering Institute: Located 3 kms on the left bank of river Beas towards Kulu. This Institute organises basic & advance training courses, in trekking, mountaineering, skiing and water sports. Skiing and trekking equipments can be hired from here by booking in advance. Tourists can visit an interesting showroom here.
Manikaran (1700 m): Manikaran, 45 kms from Kulu and just 3 kms from Kasol, is famous for its hot springs. Thousands of people take a holy dip in hot waters here. The water is so hot that dal, rice & vegetables etc. can be cooked in it. It is also a well known pilgrimage place for both Hindus & Sikhs. Ramchandra and Shivaji temples besides a Gurudwara are there. According to an old legend, Manikaran is connected with Lord Shiva and his divine consort, Parvati, who lost her ear rings here, which gave birth to hot waters on the bank of Parvati river. Hearing this religious myth from the priests will be more rewarding and interesting. Ample accomodation in the temples and Gurudwara, is available for night stay besides the HPTDC hotel.
Nehru Kund: 5 kms on National Highway to Leh,a natural spring of cold clear water named after Pt. Jwahar Lal Nehru, who used to drink water from this spring during his stay in Manali. This spring is believed to originate from the Bhrigu lake situated high-up in the mountains.
Naggar (1760 m): On the left bank of the Beas, Naggar is delightfully situated on a wooded slope and commands an extensive view. It was the capital of erstwhile Kulu state for about 1400 years. There are large number of famous temples notably Vishnu, Tripura Sundari & Lord Krishana. Cars and jeeps easily go upto the Naggar castle. Roerich art gallery which houses the paintings of Nicholas Roerich as well as his sculptures , is less than a km. from the Castle. Naggar is also a base for undertaking treks to Chanderkhani Pass and to remote valley of Malana.
Kasol (1640 m): Situated on the bank of Paravati river, Kasol makes a good holiday destination. 42 kms from Kulu, charmingly located on an open space which slopes down to the broad expanse of clear white sand at the Parvati river. The place is well known for trout fishing.
Rohtang Pass (3979 m): Rohtang pass is 51 kms from Manali on highway to Keylong/Leh. It offers a panorama and spectacular mountain view. The pass is open from June to October each year although trekkers can cross it earlier. It is a gateway to Lahaul Spiti, Pangi and Leh valley just as Zojila pass is a gatway to Ladakh. There are beautiful sights of glaciers, peaks and Chandra River flows down in the Lahaul valley. Slightly to the left can be seen the twin peaks of the Geypan. During summer (mid June to October) regular buses ply between Manali-Keylong/Darcha, Udaipur, Spiti and Leh.
Solang Valley: 13 kms is a splendid valley between Solang village and Beas Kund. Solang valley offers the view of glaciers and snow capped mountains and peaks. It has fine ski slopes. The Mountaineering Institute has installed a ski lift for training purpose. Located here is a hut and guesthouse of the Mountaineering and Allied sports Institute, Manali. Now a few hotels have also come up. The winter skiing festival is organised here. Training in skiing is imparted at this place.
The Great Himalayan National Park: Characterised by dazzling high ridges, glaciers, deep gorges, alpine meadows and valleys with closed virgin forests, the Great Himalayan National Park with an altitudinal variation from 1,300m to 6,100m in Kullu district is one of the best destinations for Himalayan flora and fauna lovers. Supporting a diverse wildlife of over three hundred species of birds and over thirty species of mammals, the region was declared a national park in 1984.
Tibetan Monasteries: There are 3 newly constructed colorful monasteries, where visitors can buy carpets and other Tibetan handicrafts. Two are located in the town and one at Aleo on the left bank of Beas River.
Vashist Hot Water Springs And Temple: Vashist, a small village located on the left bank of river Beas towards Rohtang pass is worth a visit. It is renowned for its hot springs and temples. Nearby is the pyramidal stone temple dedicated to Vashist Muni. There is another Temple of Lord Ram here. Natural hot sulphur springs with two separate bathing tanks for gents and ladies are always full of tourists. Turkish style showers fitted baths have also been built nearby. Hot water from the nearby spring is provided for bathing.